Free eBook: The air freight fundamentals for imports to Australia
What you need to know to prepare and streamline the air freight booking process and getting your cargo moving.
Inside this eBook you will find the crucial fundamentals for your imports to Australia via air freight.


Download this introduction to the Australian air freight process and learn about: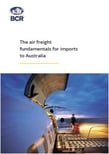 The different types and dimensions of air freight cargo
How to calculate the chargable weight of air freight cargo
Ground handling process at destination
Important documentation
And more.


To download your free eBook please fill out the form to the right!